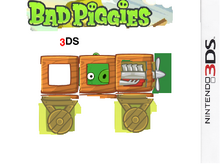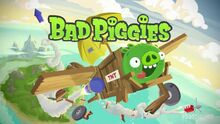 Bad Piggies 3DS is a game launched worldwide 2012. It has 1000 levels.
It is the best game in 3DS!!!!
Pigs
The Ross pig is the main protagonist in the game he is also 20 years old. Foreman pig is the second one. He is the oldest pig and he first appeared in level 3-12. King Pig is the third one. He first appeared in level 2-10 and appears in a lot of levels.
List of levels
Under Pigstruction!

This article or section is in the process of an expansion or major restructuring. You are welcome to assist in its construction by editing it as well. If this article or section has not been edited in several days, please remove this template.

Main article: Bad Piggies 3DS/Levels
Level 1-1
First level. A bit tricky.
Trivia
To make it to the goal, the player needs to get fast.
Red makes cameo.
Level 1-2
Yeah better but more trickier.
Trivia
This looks lke the player needs to make the pig roll.
Level 1-3
I just like it better.